We have been on the hunt for the best beach towels in Australia's summer season 2020. Read on to find out what we discovered.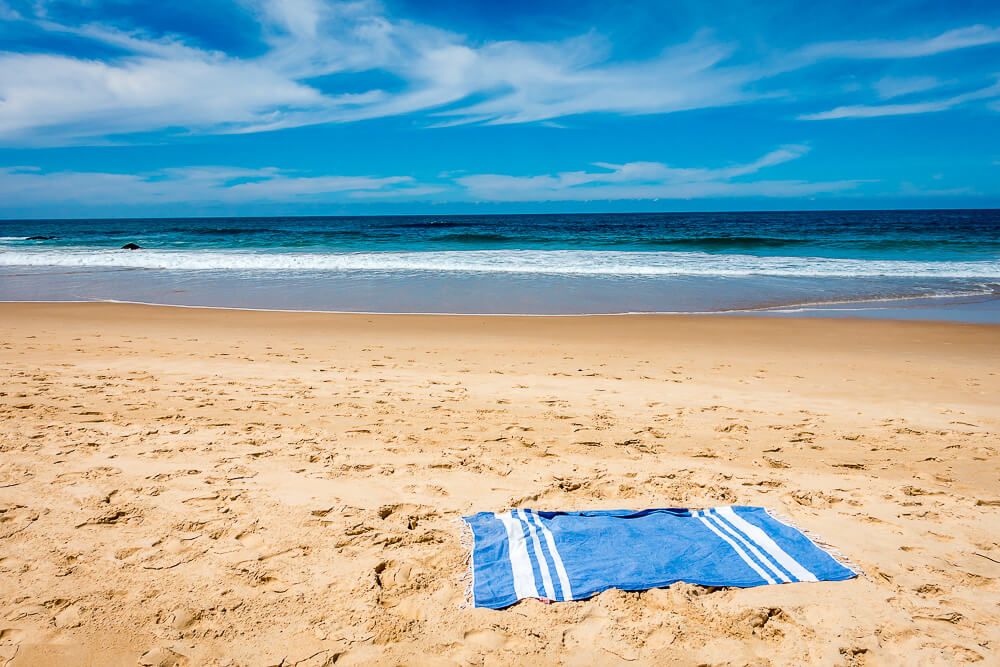 Nothing is more Australian than passing time on a beach whether it be surfing, sunbathing, barbecuing, or hanging out with our friends and families. The most dedicated of us would jump into the waves all year around. With the summer months approaching fast, the time has come to review what the Aussie market has to offer in terms of high-quality beach towels in 2020.
The main considerations
The holy grail of beach towels is sand-repellant and highly water-absorbent, lightweight and compact while fluffy and soft on one's skin. Unfortunately this is very hard to achieve with only one beach towel... That's why we need a different beach towel for each occasion!
Microfiber towels are very compact, lightweight and can absorb a high amount of liquids due to its fabric construction which makes them perfect for traveling. Being very thin, they dry out extremely fast and allow for any sticky sand to simply slide off. This also means they are easy to blow away on a windy day and their silky-smooth feel on the skin might not be for people with a preference for the fluffy texture we are used to in cotton beach towels.
Cotton towels have the potential to absorb a lot of water depending on their construction and offer a pleasant feel on the skin that most of us prefer. The heavier, fluffy kind can double up as a beach mat. These cotton beach towels, however, take hours to dry out, lock sand in their texture and take up a lot of space in a bag.
Whether you want a luxurious cotton towel or a compact one for traveling, you are sure to find one just for you below. Check out our selection of favorite beach towels in Australia that will lighten up your mood on sunny summer days.
---
1. The best of Turkish Towels
Turkey has a rich, centuries-old history of creating unique, luxurious towels. Master weavers have been trained and passed down their art for generations. Many families had their own looms at home. With the mass-produced textiles and demand for cheaper price point towels in the last century, the quality of Turkish towels plummeted. The generation-old family tradition of weaving has perished almost completely. However, some craftsmen have survived and nurtured the weaving tradition by producing hand-loomed beach towels. Aeganloom.com prides itself on bringing great quality Turkish beach towels to the market while supporting small weavers and their families.
We fell in love with their Green With Envy beach towel: Crafted from 100% certified organic cotton and oh so luxurious on our skin, this towel is lightweight and compact, making it perfect for travels. Its ingenious composition makes it repel sand so your sensitive skin stays safe and scratch-free. The ends are finished off with traditional lovely hand-tied tassels. As a bonus, it is big enough for two!
The best thing about premium quality Turkish towels: They are highly absorbent yet thin which allows them to dry fast. The cotton composition becomes softer after several washes.
Why we love these high quality turkish beach towels:
100% organic cotton composition
hand-loomed in Turkey
compact and lightweight
extra soft
quick drying
sand repellant
Cons:
less absorbent than microfiber towels
less fluffy than standard cotton beach towels
---
2. Sand free & eco-friendly beach towels
Designed with you, and the planet in mind.
We absolutely fell in love with Sand Society beach towels. They are eco-friendly, practical, and high-absorbent. They fold down to practically nothing so they won't take much space in your bag, making them perfect for travel. Each towel is made out of 20+ plastic bottles so you are saving the planet - one sand-free beach towel at a time!
Sand society beach towels are available in a range of simple yet beautiful prints and with the size 160 x 80cm are perfect for one person. How refreshing does this Lemon sand-free beach towel look!
What we love
Sand free
Compact
Super absorbent
Quick-drying
Odourless from damp smells
eco-friendly
Cons:
very lightweight, easy to blow away
limited selection of sizes
These towels also come with an elegant storage pouch so you can easily find them in your bag. They also make for a perfect holiday gift for that enviromentally conscious friend!
They dry out extra quick and deliver on their promise - beach stays at the beach: they are incredibly sand-repellent and if any sand gets on it, simply shake it off to keep your skin and eyes safe.
At 400gsm Sand Society, sand-free beach towels are 2-3x the thickness of most on market making them feel like the lush towels you would expect from a premium product. Designed in Australia. They also offer standard free shipping so you can have your towel within a week. Need it faster? Express shipping is also available for the impatient ones.
---
3. Antibacterial Microfiber Towels by NewLyfe - Ideal for Gym
We like to live a simple life. So when we stumbled upon these compact, antibacterial, sand-free microfiber towels from NewLyfe we knew straight away they would become our favourite gym companion.
These versatile towels are great for all ages and every need. Not just your average beach towel, they would perfectly double up as a towel perfect for travel, gym, pool, yoga, backpacking, hiking, camping, boating, golf, kayaking - really anywhere you sweat or get wet! 
A special Suede Microfiber constructed towels are also bacteria resistant, easy to wash, made to last, and ideal for people with sensitive skin.
These Suede Microfiber Beach Towels are the perfect travel accessory. They are quick-drying with a snap-lock hanging loop, ultra-compact, lightweight & highly absorbent - super easy to pack and carry. It is very easy to wipe the sand off them, fabulous if you need to put them back into the suitcase after your beach day.
Being antibacterial, they are ideal for an environment packed with germs such as a gym. Being extra light and thin, they dry out even faster than other high-quality microfiber towels, limiting the growth of potentially harmful bacteria in a humid environment.
If you travel a lot and need to pack light, these towels are your perfect bet. Ideal for hiking, travelling, gym, cycling, surfboarding. The fastest drying towels in our selection, you definitely need one of these in your storage.
Keep in mind that they are not plush & fluffy like regular cotton towels. The surface is silky smooth and they are incredibly lightweight and thin. However, this allows them to dry out extremely fast. 
What we like:
small, family-owned Australian business
compact and lightweight
sand-repellant
dries out 5x faster than a regular cotton towel
selection of bright prints or simple stripes
versatility
Cons:
very thin, not fluffy
single size available
---
5. Huge Roundie to share.
Quick Dry Beach Blankets. No one likes conventional. Go full circle.
Sand shakes off - the perfect sand free beach towel
Huge roundie that packs down small
Super absorbent
Won't collect damp smells
Handy pouch included - to keep your towel & travel accessories in one place
Made from 83% Polyester, 17% Polyamide
The round towels by Dock & Bay look stylish and will double up as a cool beach blanket. They can hold more water than their own weight, dry out quickly, are odour resistant and fold down to a neat compact bag that comes with them for your convenience. As expected with microfiber composition, the sand easily slides off.
Coming in a huge variety of colours, sizes and shapes, you are sure to find one to suit your preferences.
If you want to stand out from the crowd, this roundie is a must. Plus, you will spot them from miles away on the beach. They have a larger area to sit on than regular rectangular towels which makes them ideal for sharing a sitting spot.
Andie and Ben are committed to doing their bit for the environment, too: they pledged to minimize their environmental impact, creating a brand that future generations will be proud of. Their goal is to move all products over to 100% recycled material made from post-consumer plastic by 2021.
Their beach shorts are already being made from plastic - 6 bottles each to be exact.
What we like:
Beautiful and varied designs
variety of sizes
commitment to minimize the environmental impact
odour free
Super soft
highly absorbent
a great picnic blanket
Cons:
---
The best beach towel
There is no ultimate one size fits all beach towel. What is the best beach towel for you depends on several considerations:
Do you need to pack lightly for travelling? Check the product description for weight and focus on compact sized beach towels.
Is a beach the primary location you will be taking your towel with? Sand-free microfiber should be up top on your list of preferences.
Do you need a highly absorbent towel for gym or a yoga class? Look for lightweight, microfiber and antibacterial towel.
Do you want to chill at the beach with your friends or kids? Go for extra large size or even a huge round sand-free towel that is perfect for this purpose.